22 Oct 2018
RODANTHE, N.C. – The Chicamacomico Historical Association has received two commissioned paintings that depict the 1918 rescue of 42 sailors from the HMS Mirlo, a British oil tanker, by Chicamacomico Keeper John Allen Midgett Jr. and his brave crew of surfmen  from the Chicamacomico Life Saving Station.
The paintings were paid for with a bequest from the estate of Don and Caherine Bryan. Don was a local artist who loved painting scenes of the various Life Saving Stations along the Dare County coast, and Catherine served as treasurer of the Chicamacomico Historical Association during its early days.
The paintings by renowned west coast maritime artist Austin Dwyer were unveiled earlier this month by CHA Treasurer Ralph Buxton when the Chicamacomico historic site hosted the Dare County Chamber of Commerce's Business After Hours event.
The Chicamacomico Historical Association is making plans to celebrate the 100th anniversary of the Mirlo sinking and rescue in August of next year.  The Mirlo was torpedoed off the coast near Rodanthe by a German submarine during World War I. The rescue of the Mirlo crew in a fiery sea  is ranked among the top 12 Coast Guard rescues of all time.  Allen and his crew were presented Gold Lifesaving medals by the U.S. government and received other honors from both the U.S. and British governments to mark their heroism.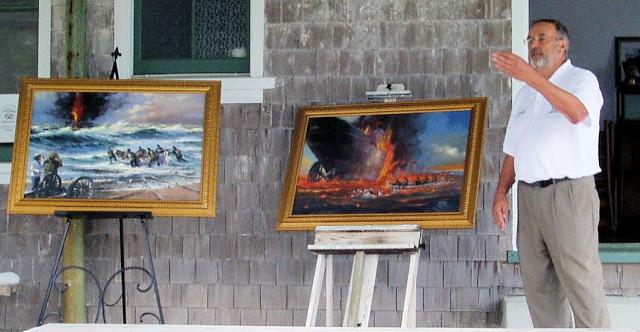 Paintings by Austin Dwyer