19 Oct 2018
The Priscilla, a barentine hailing from Baltimore, was on course for Rio when it was ran aground by the intense winds of hurricane San Ciriaco. At 3 a.m. Rasmus Midgett was on beach patrol headed southward from Gull Shoals Lifesaving Station when he came upon items washed ashore. Following the debris for nearly two miles, he heard cries of men about 100 yards offshore, who were stranded aboard what was left of the Priscilla. With no time to call for assistance, Rasmus directed each of the men off of the wreckage and assisted them in swimming to shore. Though completely exhausted, Rasmus was able to rescue all 10 crewmen, including Captain Benjamin E. Springsteen. Safely on shore, Rasmus tended to the injured, while directing the others to start walking back to the station. Once the injured men were stable, Rasmus then rode his horse, Gilbert, back towards the station for assistance in bringing the remaining men back to the station.
Upon hearing of Rasmus's amazing rescue accounts, Lt. C.E. Johnston recommended Rasmus to be awarded the Gold Lifesaving Medal, which was given to him by the Secretary of the Treasury, along with a highly commendatory letter detailing his heroic rescue.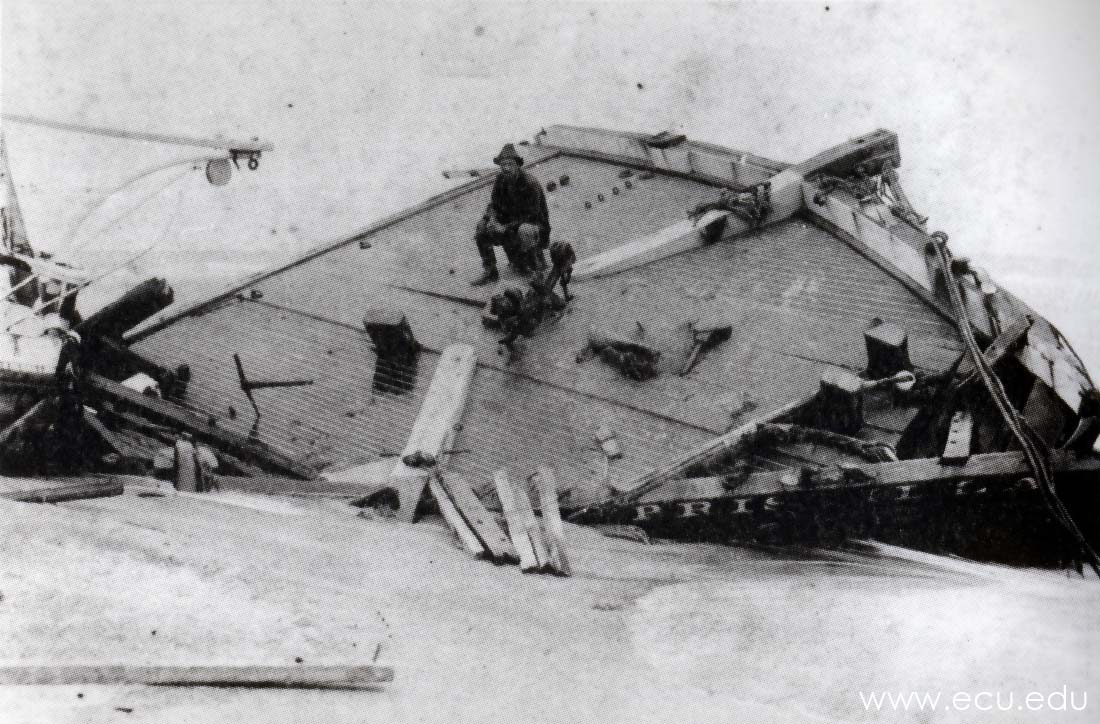 Photo: Rasmus sitting on the wreckage of the Priscilla - Photo Credit: www.ecu.edu
The Hatteras Realty Waves Office is the historical home of  Erasmus "Rasmus" S. Midgett, which was  built in 1849.
Rasmus was one of a long line of NC Surfmen known as the "Mighty Midgetts".