22 Oct 2018
Navigating the waters off the coast of Cape Hatteras can be a difficult feat, even for the most experienced sailor. Known as the Graveyard of the Atlantic, Hatteras Island's coastal waters are well known to be the home to thousands of ships lost at sea. One of the last great shipwrecks to fall upon our beaches was that of the George A. Kohler.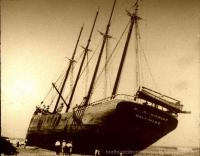 Hailing from Baltimore, the G.A. Kohler schooner was headed down to Haiti when it was caught in a hurricane, during August of 1933, just off the shores of Cape Hatteras. With high winds, the G.A. Kohler was not able to escape the force of the hurricane and ran aground on the beach about 4 miles south of Salvo. With the area being hard to reach by rescuers, the ship's crew members and other passengers were stranded on the ship until the hurricane passed. Coastguardsmen from the Chicamacomico Life Saving Station and Gull Shores were able to rescue everyone from the ship once the high winds had subsided.
The ship, on the other hand, was unable to be rescued. The G.A. Kohler was stranded on the beach for the next 10 years. During that time, islanders were paid to salvage what they could off of the boat. Items like desks, chairs, and other small furnishings were sold off. Captain George Hopkins sold what was left of the ship for $150 and during WWII the haul of the ship was finally burned for its iron fittings. The charred remains were left on the beach to be covered by the sands of time.
Occasionally the remains of the George A. Kohler are uncovered by high winds or storms and can been seen lying near the ocean before it is covered up again.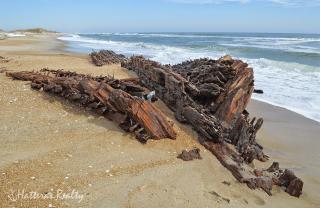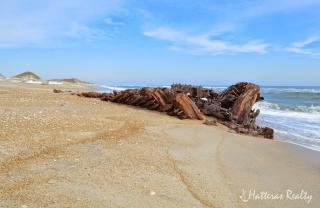 The George A. Kohler wreck is located just north of Ramp 27, on the stretch between Avon and Salvo.
Fun Fact: Pieces of the G.A. Kohler were used to help build the Salvo Assembly of God Church (now the Lighthouse Church) in 1938.