19 Oct 2018
Golf carts have become a popular way to get around the island. In recent years, Hatteras Village has been able to accommodate street legal golf carts on Highway 12 and side streets within the village. This has made for a fun way to travel to and from rental houses to your favorite destinations.
On Monday, Dare County Board of Commissioners approved the use of street legal golf carts in the village of Buxton. Carts are not permitted to travel on or across Highway 12, but are allowed on streets where the speed limit is 35mph or less.
Currently golf carts are allowed in Avon (permitted on certain streets), Waves (permitted on 2 streets), and Hatteras Village (permitted on Highway 12 and other roadways within the village).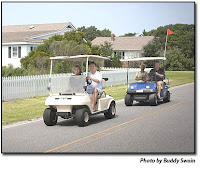 Photo: Island Free Press via Buddy Swain